Whores Will Rise came about because they did just that. Held in September of 2018, the exhibition "Whores Will Rise: Protest Art & Resistance Ephemera Against FOSTA/SESTA" is and was an archive and memory of sex worker and accomplice resistance. Hosted by the influential arts and technology organization Eyebeam in Brooklyn, New York as part of a Hacking//Hustling convening, the exhibition sought to introduce to new viewers objects that were collected and preserved after being actively used, worn, held, read, in protest — but it also served to reintroduce these objects to their creators and community. This gathering became a space to re-member the ways radical sex worker community have (continually) participated in struggles for social change. It recognized each object of resistance as art, all art as labor, and that there is no labor more in need of recognition than criminalized labor.
Throughout this exhibition space, one would have seen protest art and resistance ephemera from recent demonstrations against "SESTA/FOSTA" or the Stop Enabling Sex Traffickers Act and the Fight Online Sex Trafficking Act, which were passed into federal law on April 11, 2018, much to the fear and fury of sex workers and survivors. From the now-sunset formation Survivors Against SESTA:
Both bills FOSTA (HR 1865 ) and SESTA (SB 1693) became one law on April 11th, 2018. What is popularly referred to as "SESTA/FOSTA" is actually named Public Law No: 115-164.
This Act is actually now popularly titled: ''Allow States and Victims to Fight Online Sex Trafficking Act of 2017,'' and it is essentially the amended culmination of FOSTA (HR 1865) and SESTA (SB 1693).
The short of it is that this act exists: To amend the Communications Act of 1934 to clarify that section 230 of such Act does not prohibit the enforcement against providers and users of interactive computer services of Federal and State criminal and civil law relating to sexual exploitation of children or sex trafficking, and for other purposes.
A central point of concern for harm reduction and sex working people online is that Section 5 of the law states: "Ensuring federal liability for publishing information designed to facilitate sex trafficking or otherwise facilitating sex trafficking."
This Act also makes allowances for States Attorneys to specially prosecute these cases. It is a very vaguely worded law, but its specified targets are online platforms, websites, companies/corporations behind site hosting. That being said, we know the broad and dangerous implications of such targeting.
Though there is little-to-no evidence that these laws have done anything remotely related to ending labor trafficking, there is an abundance of data on this law's devastating impact on sex working and trading people and our extended queer and trans communities, as well as sex educators and youth health workers. Hacking//Hustling, which began as a convening and developed into a collective of sex workers, survivors, and accomplices working at the intersection of sex work and tech, has been creating indispensable resources in response to criminalizing legislation like SESTA/FOSTA. Hacking//Hustling's report Erased, co-written by Danielle Blunt and Ariel Wolf, details these impacts:
...what this legislation actually does is give online platforms the power and incentive to censor their users for fear of "facilitating" sex work, thereby pushing sex workers off reliable and trusted platforms and into less safe working environments. Street policing (including racist, sexist, and transphobic policing tactics) intended to "clean up the streets" pushed sex workers online, and now with legislation such as FOSTA-SESTA, this policing is extended to online platforms, effectively, squeezing workers from both sides. Faced with this policing and social stigma, sex workers' own fears and self-censorship act as another form of policing within the community.
FOSTA-SESTA's passage was followed with an immediate chilling effect, as platforms shuttered in anticipation of bankrupting lawsuits and possible criminal charges. Platforms used by mainstream audiences—like Reddit and Craigslist—deleted content before the law had even been signed. As a result, the already-marginalized communities who use the web to find work and build community around sex work were suddenly locked out."
In the face of these impacts, sex workers continue(d) to organize, regroup and produce harm reduction resources, and make resistance art — the likes of which could be both seen and felt on display in "Whores Will Rise." The name of the exhibition was derived from a poem of the same title by Alisha Walker, who was, at that time, an incarcerated sex worker, and who currently organizes with the Support Ho(s)e collective. This community exhibition worked to remind its viewers that an unapologetic resistance to state violence, policing, whorephobia, and the criminalization of survival was what was needed then — and remains needed now. Sex workers have always been at the forefront of liberation struggles; this exhibition was an archive and memory of a community ready to fight. This was an opportunity for resistance curation.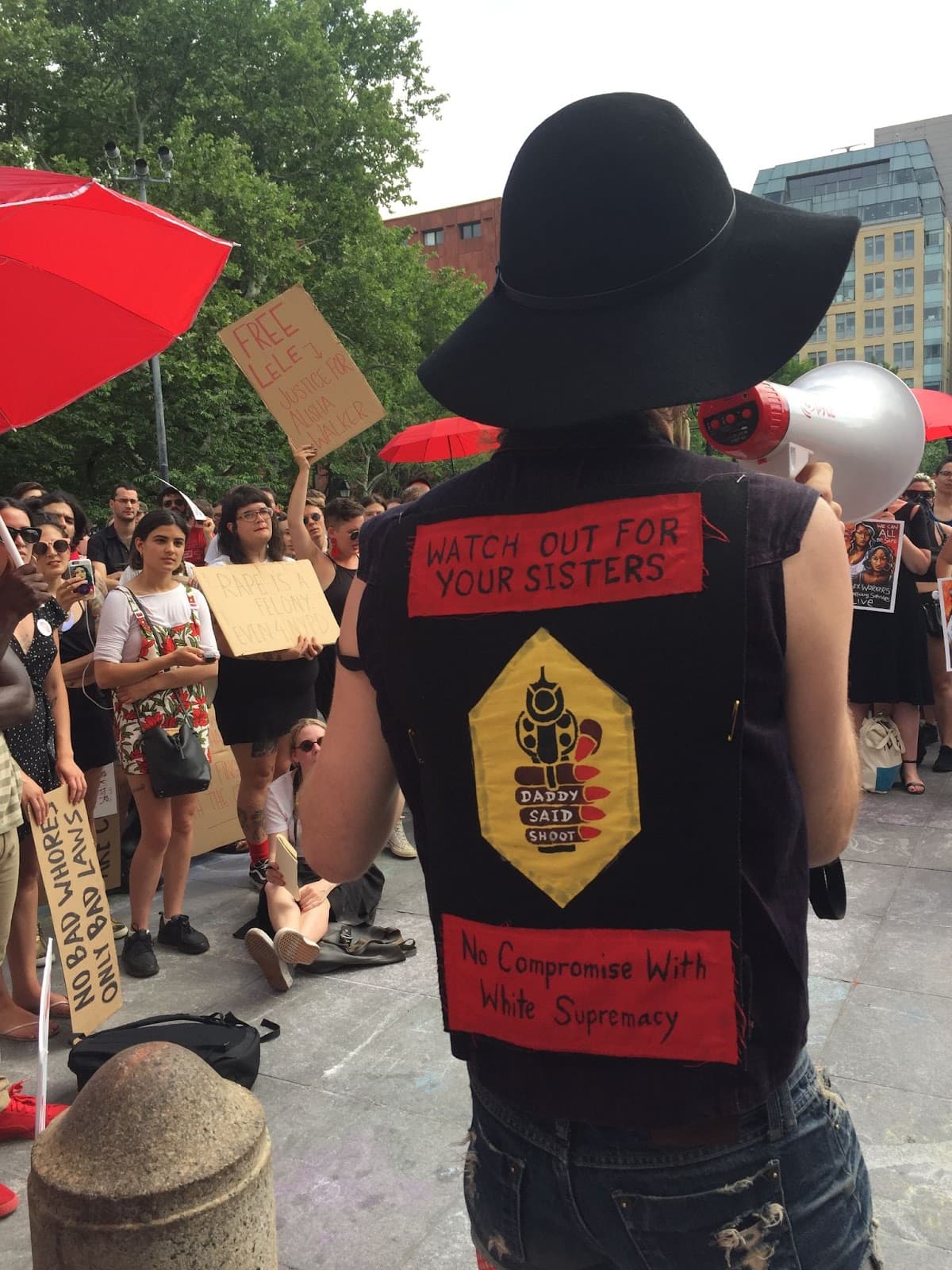 Included in the exhibition were images from four International Whores' Day demonstrations, which took place on June 2, 2018, in Chicago, Washington, D.C., Oakland, and New York City. (Over 20 cities worldwide took to the streets that day). The central object re-membered in the exhibition focused on this International Day of Action, which had its spark in Lyon, France on June 2, 1975. This day of sex worker resistance against police and societal violence, almost 50 years ago, became known as Journée internationale des luttes des travailleuses du sexe, International Day of Struggle for Sex Workers, or as it's referred to historically within sex worker community, International Whores' Day. Just as the sex workers occupying St. Nizier Church in Lyon were making protest art out of creative necessity, the pieces in the exhibition could be felt and held and imagined as comrades in the absent ephemerality of those Lyon protest objects.
---
With the ongoing violent disappearance of sex workers from online (and already from public and IRL) spaces, I'm interested in experimental and popular archival work to reclaim and re-appear sex workers' public space. Curation for me meant working in direct collaboration with the protest(er) art makers, my friends and comrades in struggle, bringing in survival stories, harm reduction practices, the poetry of incarcerated organizers, and listening intently. The practice of listening, assembling, and collaging shared experiences is part of unmaking the violence of erasure. Experimenting with a focus on objects that might be shirked by mainstream art institutions was an authentic and necessary expression of community defiance. To reclaim and re-appear means being with your people "in right relationship," and acknowledging the collective labor that creates opportunities like these. For instance, I am forever inspired by the curatorial work of Ayanna Banks-Harris, Rachel Caidor, Mariame Kaba, Deana Lewis, Andrea Ritchie, and Ash Stephens for these reasons.
The "Whores Will Rise" exhibit and convening gave way to the formation of Hacking//Hustling. To have sex workers leading workshops around digital security, tech, surveillance capitalism, and personal safety strategies while also exhibiting their protest art and their resistance movement artifacts felt and continues to feels monumental.
Radical whore history, survival technologies, and community building were central to this convening, and remain central to the collective formation of Hacking//Hustling, which continues work to undermine racist, whorephobic, and transphobic tech, and the institutions that wield that tech.
As a queer non-binary artist and community organizer who's been collecting protest ephemera and stories and making zines about organizing for almost fifteen years, I've been so inspired by sex working people's capacities to create and re-make in the face of state violence and stigma — while also wishing that this exhaustion and resilience wasn't necessary. I've been a part of collectives, community formations, and ad hoc committees organizing events, demonstrations, and fundraisers for abortion access, incarcerated loved ones' defense campaigns and needs, queer and trans community spaces, and efforts to end the death penalty. Each of these efforts I've been a part of and more were directly served by having sex working people involved in the planning and strategizing. This work and creativity was sometimes apparent and acknowledged, but more often was behind the scenes and for many years did not receive the appreciation and recognition much deserved. And then a cultural shift, led by whores, began to manifest in popular culture, mainstream political discourse, and "progressive" media and journalism.
This "by and for" community exhibition was focused on sex worker movement organizing, art making, and whore-led demonstrations in New York specifically, but also constellated the cross-country and international rise in sex worker resistance, as the notions of "decrim" and sex work positivity took hold in ways previously unseen by mainstream artists, art workers, and the general public. This is only one cross-section of the explosive art and protest activity that the last several years has seen (most notably) in the U.S. (as our movement spaces have not garnered such mainstream notoriety) and internationally for sex workers' rights and the movement for decriminalization.
My text- and image-based essay remembers and reflects on this convening of sex work and tech, together with its exhibition component, as an intentional action by sex working people, hustlers, and survivors to take back gallery and public space alike. Taking over institutional spaces is significant — Big Tech continues to ignore sex workers, and even smaller lefty tech organizations have been slow to listen to those most impacted by FOSTA/SESTA and subsequent criminalizing legislation. Eyebeam hosting our gathering and exhibition was extremely noteworthy, and came about through personal relationships and creatively applied pressure — as was the case for most spaces I've seen the sex working community gain access to. Eyebeam is both a physical space and an online archive presence that exists "as a resource for artists to engage creatively with technology in an experimental setting." It's acknowledged as a resource-making creative space that merges tech and the arts in both productive and imaginative ways. To my knowledge, our event was the first of its kind (i.e., involving out sex workers) for the institution. While Eyebeam is absolutely not "Big Tech," its name, reputation, and purported values made it an auspicious launching point for Hacking//Hustling.
When I say "Big Tech," I do so with great disdain for surveillance-based business models of companies and platforms such as, but not limited to, Twitter, Instagram, Facebook, Thorn, Google, Apple, and predatory, discriminatory (read: all) banking and financial institutions. As comrades from Decoding Stigma remind us, "When Apple, the first company to 'put the internet in everyone's pocket,' prohibited explicit content under its 'Safety' conditions for third-party app developers, it fundamentally equated erotic material with torture, bigotry, and physical harm. As growing numbers of people are accessing their news and information via mobile (and thus via app), content must increasingly pass Apple's terms and conditions as a point of market viability."
This photo essay is set amongst the more recent broader acknowledgement of sex and sexuality in art and tech spaces — especially considering the rampant fear and criminalization of online sex working spaces in the aftermath of SESTA/FOSTA.
---
The pieces affixed to the walls, stacked and displayed, were primarily posters, signs, banners, decorated red umbrellas (a symbol of sex worker rights and solidarity), print copies of speeches given at rallies, zines, and photographs. There were also images from subsequent demonstrations led by sex workers and accomplices toward decriminalization, community building, and gender justice.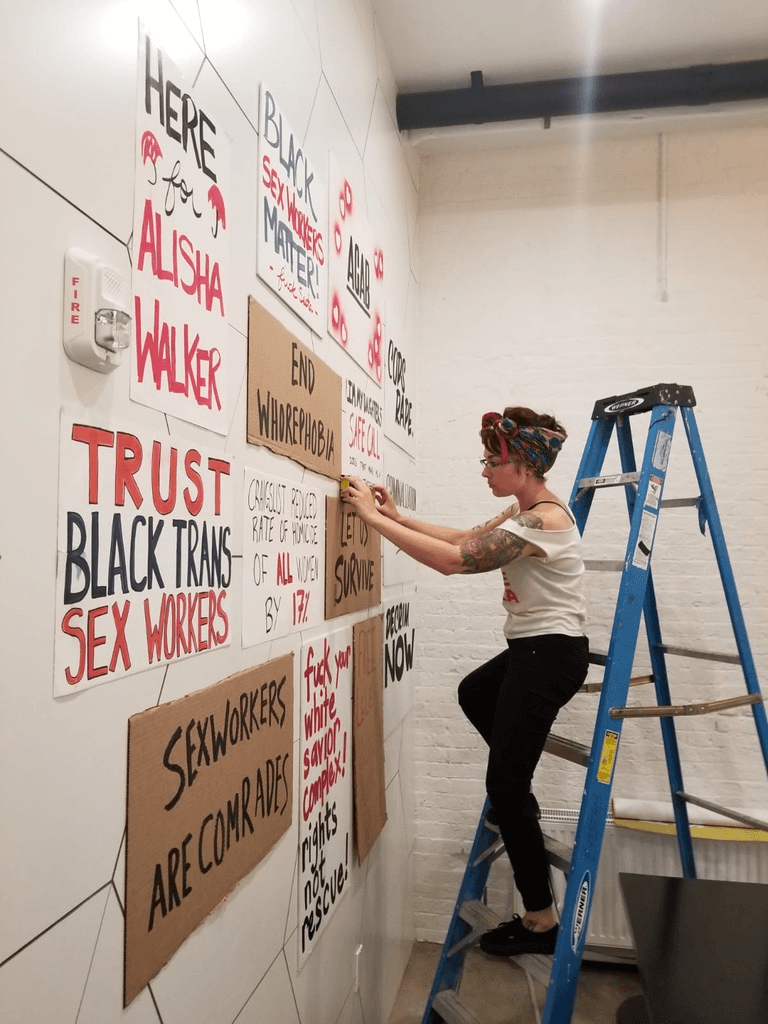 A white, tattooed femme is perched on the steps of a ladder adjusting protest signs they've mounted to the white wall across from them. The signs feature black and red lettering spelling out messages of love, solidarity, and rage from sex working community. These signs were made, held, and marched with for an International Whores' Day demonstration months prior to their exhibition here. They were collected and saved for future demonstrations and for archival purposes by sex working community archivists and organizers, like me, the white femme on the ladder.
The room I was assembling our protest objects in was small, but full of light when the sun was up. It was not a room built for an art installation, more an office break room of sorts, but I was thrilled to have the space. The smell of cardboard, permanent marker, body spray, spray paint, vinyl, and leather filled the space as I unfurled banners, opened suitcases, and began arranging personal and political objects around the space — listening to them; remembering their people, makers, and wearers; and the energy they witnessed and now, in my belief, held.
This was a very humble community exhibition, held together literally by scotch tape, alligator clips and a lot of love, simple technologies that enabled us to re-member these pieces, these objects imbued with resistance and anger and collective power. I am still floored that a tech and art organization was convinced to let us take over their space for that weekend to install, exhibit, and remove elements of our convening. This is a testament to the relationship-building and hustling of whores — making things happen and applying pressure wherever necessary.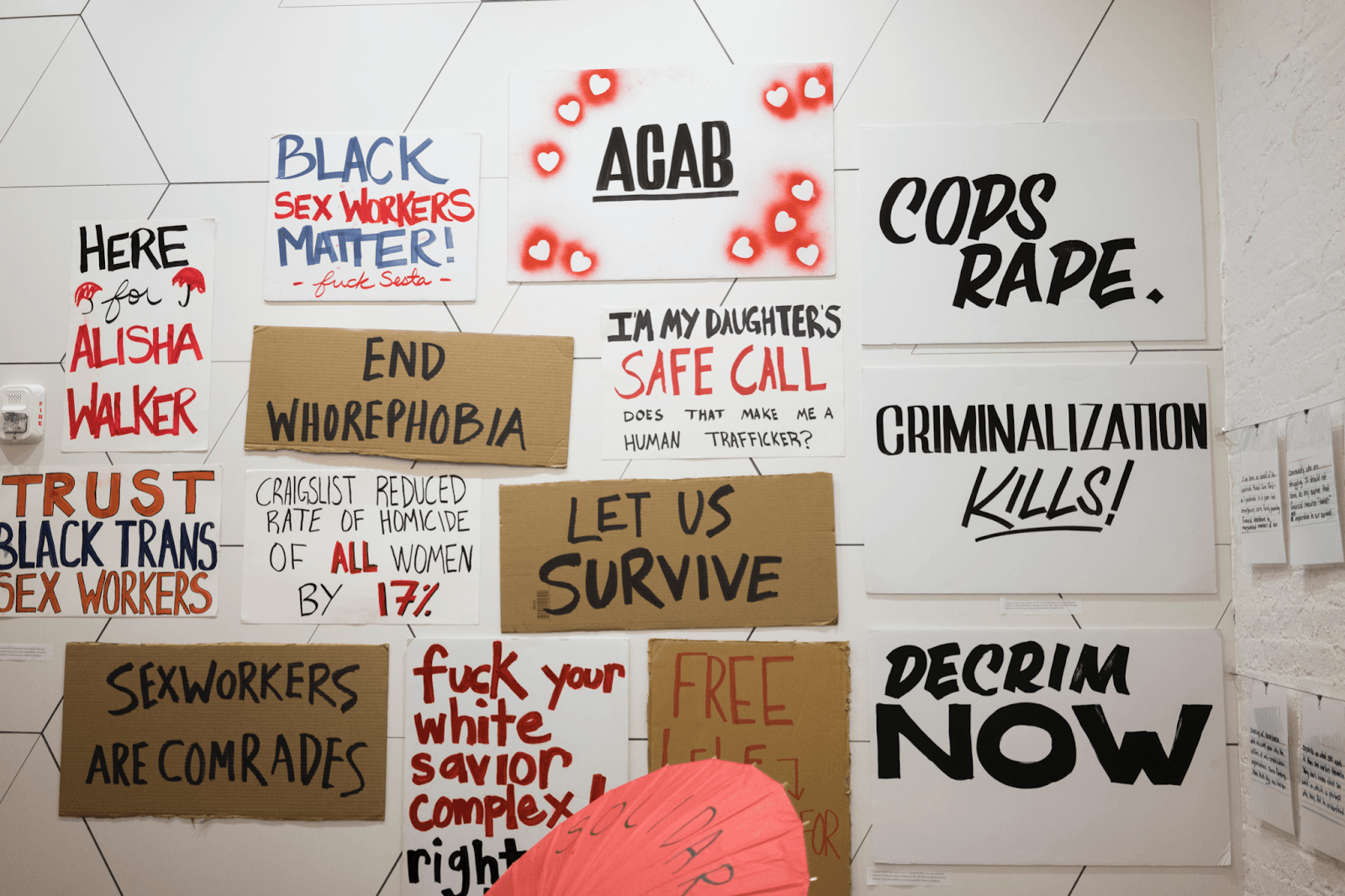 Fourteen protest signs on poster board and cardboard, featuring red and black lettering, are mounted and arranged on a white wall. Their messages range from calls to free incarcerated sex workers and to protect and trust Black trans sex workers, to declaratives against the police and criminalization. Many of these signs were created by sex working organizers, protestors, and co-conspirators during a sign and banner making event the week ahead of the NYC International Whores' Day demonstration the summer prior.
These posters are mounted on one of the five walls that held and supported the collected objects. This wall faced others that supported banners, photographs, t-shirts, fliers, enlarged prints of notecards from an organizer's speech, and red parasols that had slogans of solidarity written on them. These walls surrounded and looked over two tables which held zines, pamphlets, photographs, Pleasers, and a bullhorn.
People recognized these pieces from demonstrations or coverage of protests circulating on social media. They gestured to the pieces, touched them, read aloud from their texts, or loudly exclaimed when they saw a friend or comrade in a featured photo. The interactiveness of community curation connects us to not only the art but to each other, to the struggle.
Holding space for visitors who were seeing the exhibition in-between workshops and panels, I noticed how long people would linger, reading these posters' words in particular. I welcomed people to touch the signs they could reach, trace the letters with their eyes or fingers, and speak the words aloud or sign them. At first, people were a little taken aback by this invitation, because we've all been so conditioned by institutional gallery and museum spaces to distance ourselves from objects on display, but when they embraced this suggestion, I could see the interactive practice of doing memory work, forming connections to the movement. These objects were not abstracted or removed from viewers, they were not highly conceptualized — they were accessible, recognizable, tangible. People recognized these pieces from demonstrations or coverage of protests circulating on social media. They gestured to the pieces, touched them, read aloud from their texts, or loudly exclaimed when they saw a friend or comrade in a featured photo. The interactiveness of community curation connects us to not only the art but to each other, to the struggle.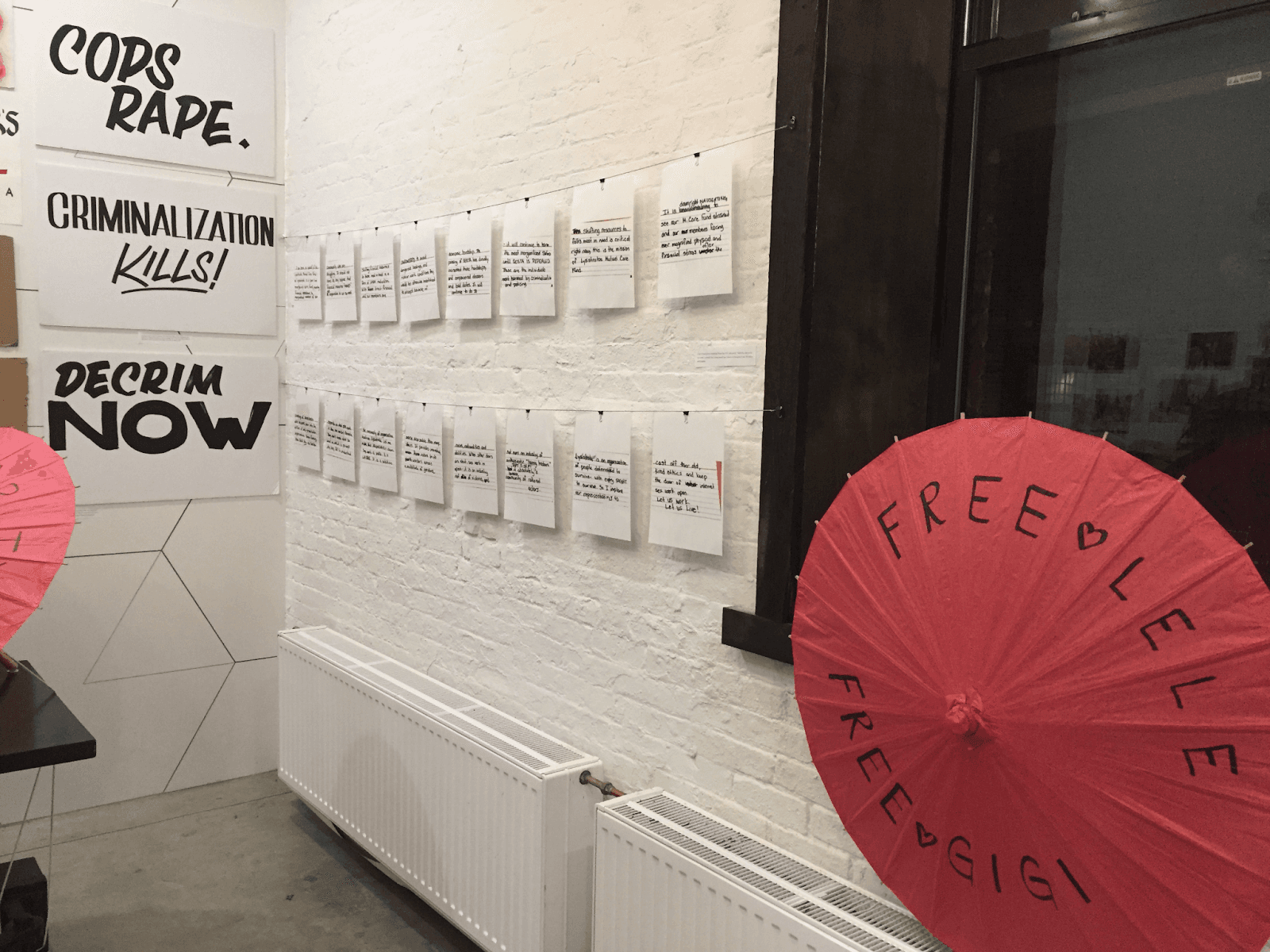 An opened red parasol featuring the words "Free LeLe" and "Free GiGi" written in black marker is mounted on a windowsill. To the parasol's left are two rows of metal twine, with enlarged printouts of a speaker's notecards, attached with black alligator clips. Part of another red parasol atop a table and posters from the last two reflections are visible further left in the image.
These parasols were carried during the IWD demonstrations and shielded the wielders from the hot June sun and also, when desired, cops and cameras. The parasol off-image is emblazoned with the writing "Solidarity Forever", a popular labor movement slogan and song lyric. The parasol in the image carries the names of two Black sex working women and community advocates — Gigi Thomas, who remains behind bars, and Alisha Walker.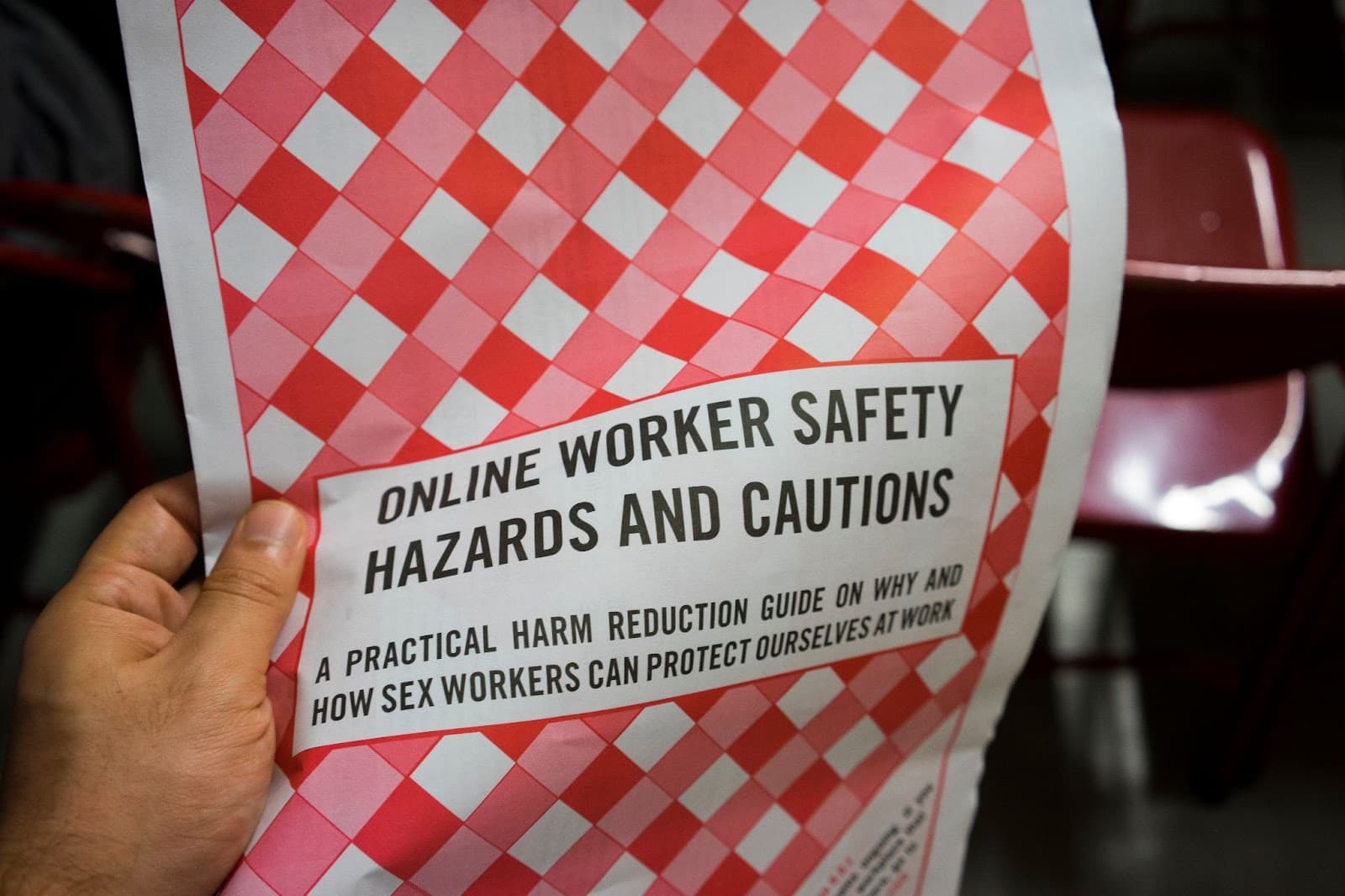 I was able to have dozens of conversations about these two comrades and others, and the ways in which violent legislation, anti-Black "rescue industry" motivated policing, and online surveillance technologies are devastating sex working, trading and hustling communities — which of course means devastating survivors, parents, caregivers, and neighbors. On the table, just out of image, was a stack of hundreds of a fold-out poster/zine called "Online Worker Safety Hazards and Cautions." This zine, created by Ingrid Burrington in collaboration with Survivors Against SESTA and Hacking//Hustling, debuted as a resource during the convening.
As much as this exhibition and the demonstrations it references and remembers are about resistance, joy, and collective power, they were and are also concerned with discussing the violence of white supremacy, the carceral state, and the need for prison abolition and fighting for the decriminalization of survival. Bringing Alisha's and Gigi's names and stories and community advocacy for queer, trans, Black, sex-working and drug-using people into this space meant a lot to me, and to our broader sex work and tech-adjacent communities. The crew who assembled this convening, myself included, see prisons and policing as inherently violent technologies and systems. These systems are weaponized against Black, Brown, Indigenous, queer and trans, cash poor, migrant and/or undocumented, and disabled people hourly. These systems are not new. However, these systems are developing new technologies and new means of surveillance, hourly.
Radical whore history, survival technologies, and community building were central to this convening, and remain central to the collective formation of Hacking//Hustling, which continues work to undermine racist, whorephobic, and transphobic tech, and the institutions that wield that tech. We creatively build, remember, share, and learn together — these visions were present in the room of photos, posters, Pleasers, and parasols, just as they are present in the workshops, teach-ins, and research efforts available through Hacking//Hustling's living resource website.
It has been 4 years since these objects were collected at the exhibition, and even longers since they were assembled by their creators for use in protest. In this time, sex workers' predictions about the necessity of struggle, awareness, and action have come to pass. More deaths of sex working or trading people have been reported, arrests remain high, resources are still scarce for labor trafficking survivors, and online platforms for advertisement and client screening continue to dwindle. Before FOSTA/SESTA, we saw raids on affordable and accessible platforms like Backpage; after FOSTA/SESTA, we've seen new legislation that would erode online privacy (like the EARN IT Act) capture the rescue industry's support. In short, as the "Hacking//Hustling @ Eyebeam" convening co-organizer Melissa Gira Grant has commented, "Sometimes people have referred to sex workers as kind of canaries in the coal mine of the internet…In this case I'd say it's even worse because we aren't paying attention. They're almost like the Cassandra in the coal mine." Sex workers warned you.
---
Arts-based and cultural elements of organizing are often seen as superfluous, but I consider centering the cultural and artistic works of radical sex workers and co-conspirators as a way to imagine our futures collectively and honor past struggle. We change ourselves and the spaces we take up when we create, especially collectively. When our creations, be they artistic, technological, or work-safety focused, are created to undermine systems seeking to ostracize, oppress, and kill, they hold such power. Part of organizing a community is tapping into collective power, decision making, and political education, and wildly imagining together. This last element is what I'm most concerned with in these reflections — the "how to" of aesthetically and culturally undermining violent systems. Questions like: What feels possible when you allow yourself to express unbridled rage and joy? What sorts of tools for rest and liberation would we fashion if we had unfettered access to resources? What can we vision-make together in the name of freedom work?
A popular rallying cry for sex workers organizing at the intersections of sex work and tech has been, "Sex workers built the internet!" But what tech-savvy hustlers have seen since the advent of the internet is the rampant ostracization, criminalization, and gentrification of online spaces of art-making, work, harm reduction resource distribution, sex education, and community building. It has long been time to give sex-working people their due for continuing to create in the face of such violence. We must further explore the ways in which technologies have been transformed or wielded by sex workers in creative ways to reduce harm and self-protect, and acknowledge that this is absolutely culture-making. We urgently need co-conspirators, accomplices and comrades acting in solidarity and unapologetically so. Listen to and learn from, and for fuck's sake, credit sex workers. Give platforms and space and money and resources to sex workers. Take our labor, our organizing, and our art making seriously.
Brit Schulte is a community organizer, zine maker, PhD student at UT Austin, and underemployed sex working art historian. They helped organize the Justice for Alisha Walker Defense Campaign, are a collective member of Hacking//Hustling, and are a founding member of the Support Ho(s)e collective and of Bluestockings Cooperative. They formerly organized with Survivors Against SESTA (which sunset active organizing in July 2018), Survived & Punished NY, and Red Canary Song.
---